Ronald Johnson is vice president of policy and advocacy for AIDS United, a national nonprofit organization dedicated to ending the HIV/AIDS epidemic in our lifetimes. AIDS United is a Mapping Pathways partner.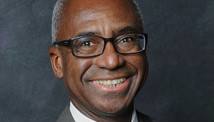 As a gay black man who came of age just before the 1969 Stonewall riots, I've seen far too many examples of the inequalities that exist in America.
But I'm also highly encouraged by recent developments: same-sex marriage support from President Barack Obama and the NAACP, and a wave of federal court rulings -- from the Defense of Marriage Act being deemed unconstitutional to the rejection of California's Proposition 8 -- that have opened a promising new chapter in the gay rights movement.
All of this suggests that after many, many years, we are finally piercing the stigma surrounding being gay in America.
Now let's talk about erasing the stigma of HIV/AIDS.
Right now, 1.2 million Americans are living with HIV/AIDS. I am one of them.
Read the rest.
[Content that is linked from other sources is for informational purposes and should not construe a Mapping Pathways position. Please look for us on Facebook here www.facebook.com/MappingPathways and you can follow us on Twitter @mappingpathways as well.]